Paperweight Dealers

France
Germany
Poland
UK
USA




Paperweight Makers




Paperweight eBay Stores




Art Glass on eBay from:



James Hart paperweights. (October 2003 - September 2007)
A bargain !
Paperweights on eBay:

Paperweight Books




Paperweight Collections on Show




Paperweight Clubs




Other miscellaneous Paperweight Links
More pictures of Whitefriars Paperweights (More than 70 weights now illustrated) and of a Whitefriars-like weight and some pictures of Perthshire Paperweights.and two unique Peter Holmes millefiori paperweights.
If you would like a free link on this page just email me.
Search Book Dealers for old and new Paperweight Books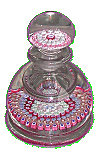 Val St Lambert
paperweight archive
Studio paperweights on eBay: